Poke: The next generation sushi dish is here!
---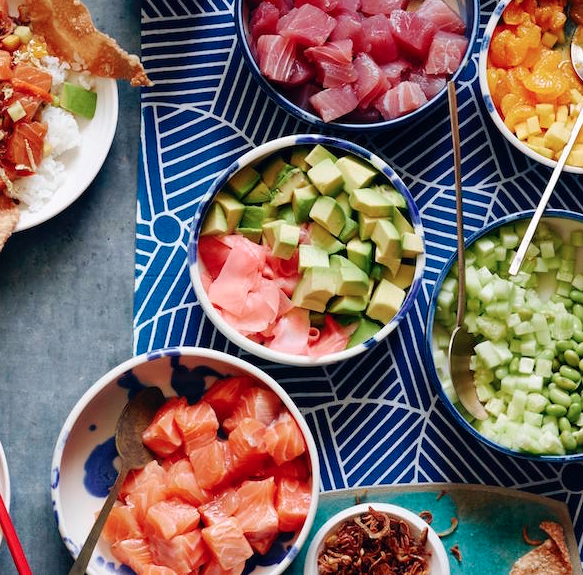 Pronounced POH-kay, Poké is a mix of raw cubes of seafood in a soy-based marinade, served over rice or greens (or on its own) and typically topped with seaweed, cucumber, avocado or tobiko. Often served in bowls, and called a poke bowl, this dish could be considered a deconstructed sushi.
A staple dish in Hawaii, Poke is a simple, yet addictive, meal that can be found everywhere. Literally, unlike in North America where trendy Poke shops are the new hangout, in Hawaii poke is at the gas station and the local roadside stand.
The word poke simply means "to slice or cut" or "chunk", becoming the new age sushi. These chunks are types of fish, usually tuna, marinated with soy sauce, sesame oil, and mixed with onion. But, poke doesn't have to be tuna, or even seafood, and it doesn't have to be raw or even cubed. It is not uncommon to see tofu or avocado used as the main protein. Topped with sauces such as soy sauce and sesame oil, or add a kick with spicy Japanese condiment, tobanjan, and you have yourself a poke bowl. For the poke lovers who are up for adventure, bowls can include octopus, salmon, wasabi, kimchi, and creamy mayos. And for those who aren't so daring, bowls can be made with quinoa, zucchini noodles and tomatoes, (while these are definitely more health-oriented, they are a far cry from Hawaii's classics).
We recently went on a trip to Hawaii, and we can say first-hand that poke is basically Hawaii's favorite food. Not wasting anytime trying this native dish, we dove in forks first and experienced poke in its traditional form. Every bite was so fresh and full of flavour, we knew we had to bring the Hawaiian staple back to Nomiya.
We are excited to launch our poke bowls at all three of our locations this November! Made with the freshest ingredients, fresh fish, and Oceanwise seafood, we know we will have your tastebuds on their way to Maui!
Order 1 flavour of poke: tuna, tofu, or tako (octopus). Or try the trio!
All comes as a set with masubi, salad, and miso soup.
Stop in and try this healthy, delicious, and totally unique bowl that is quickly becoming an Edmonton favourite!
Poke served for a limited time: November 1st until December 31st!