Nomiya's Ultimate Guide to Homemade Ramen
---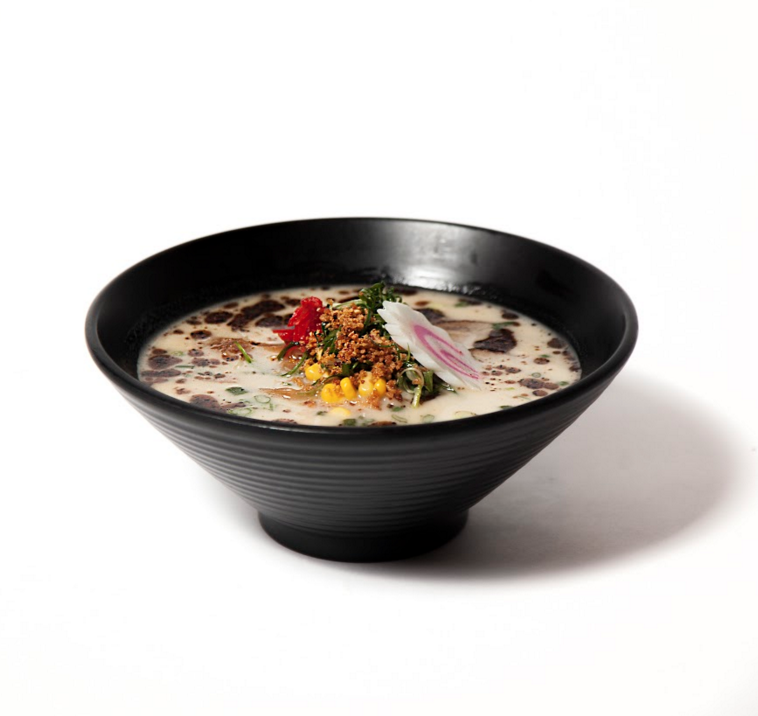 The broth, the seasoning, the noodles, the mouthwatering aroma….what could be better than a delicious bowl of ramen?
After an eye-opening visit to Japan, we wanted to bring the traditional dish of ramen to Edmonton so we opened the very first Nomiya location back in 2011.
Flash forward six years later and Nomiya is now known for its authentic Japanese ramen with uniquely crafted spices, recently voted Best Ramen in Vue Weekly, with all of our ingredients handmade from scratch.
A night out for dinner is always a treat, but it might not always be an option. To make sure that ramen is always accessible to you, even when you're at home, we've put together the ultimate guide detailing key elements to make this savoury dish your weekend sidekick.
Broth Base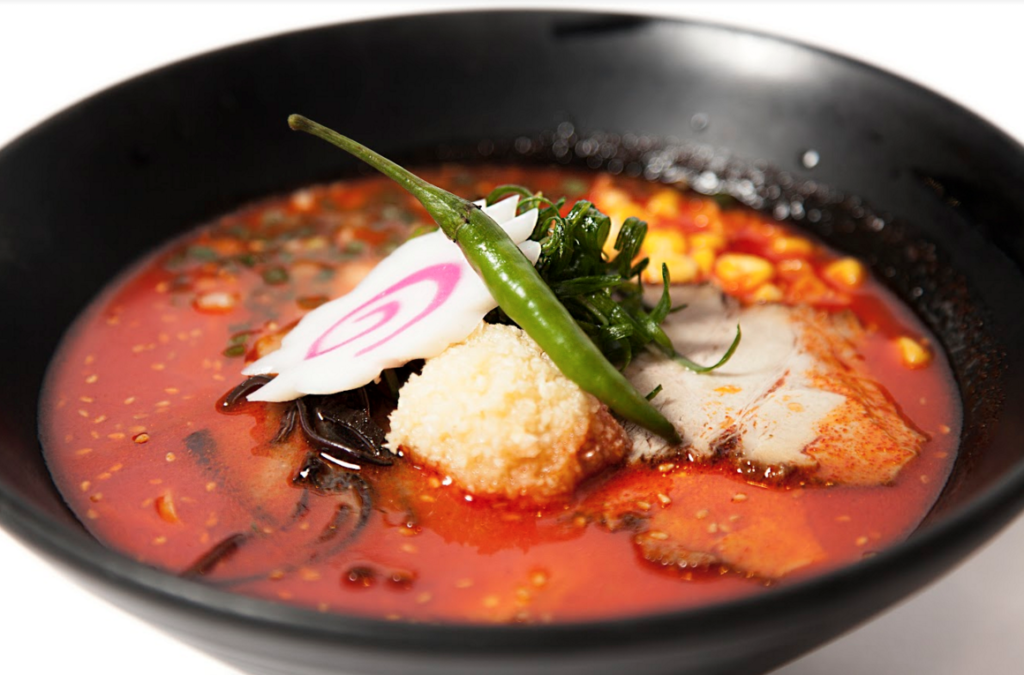 Our homemade ramen broth has been a labour of love for the last 45 years, and takes at least 8 hours to brew, but we get you might not have that kind of time. One easy way to create flavourful broth is to put 2 to 3 pounds of chicken bones into a pot with 1 carrot, 1 celery stock, 2 onions, 2 cloves of garlic, and 3 to 4 quarts of water. Then, set your broth to a boil and let it simmer for a few hours so that the flavours can layer.
Next, strain the broth when complete to get rid of the bones and vegetables.
The type of bones that you choose are based on preference, so feel free to use any kind that you think would give your broth the best taste.
If you're vegetarian or vegan, you can follow this simple recipe for broth:
Add 1 tablespoon of oil in a large pot over medium heat.

Add garlic and ginger and saute for 1 minute.

Add vegetable broth, soy sauce and miso paste and whisk together.

Gently simmer over low heat.
For a more complete look at different types of ramen broths, check out Nomiya Ramen Broth 101.
Flavour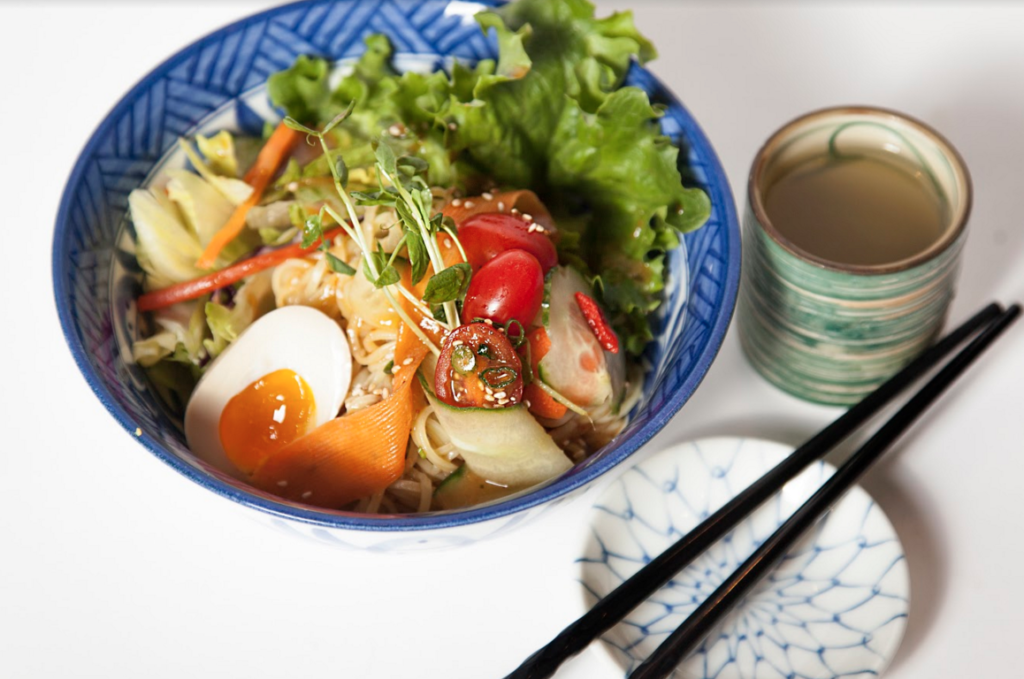 No great ramen dish is complete without a great-tasting broth. Now that you have a good starting base, you'll to want to season your broth to make sure it doesn't taste bland. Again, there are many different ingredients you can use to really make your broth sing. Here are just a few:
> Tare
> Miso
> Sea Salt
> Black Pepper
> Soy Sauce
Pick whatever suits your fancy, and add it to your broth. To ensure that you get the right balance, slowly add these different elements and taste test your broth until you get the right flavour that you want.
Noodles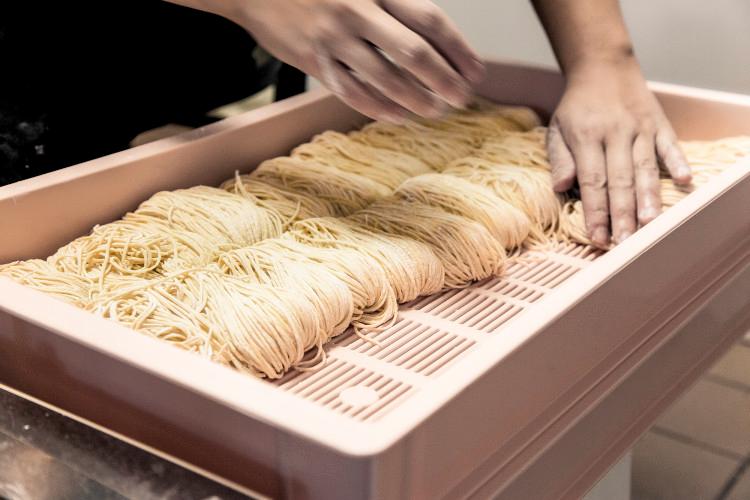 While ramen-specific noodles are ideal, you can still make this dish with any fresh or dried egg noodles.
The other option is to hand make your own noodles. The origin story of ramen noodles stretches back hundreds of years, traveling through trial and error across Asia. Traditionally, the noodles are hand pulled and our ramen process utilizes all techniques and components of traditional noodle making.
Here's what you'll need to pull off your own noodles:
> 3 cups of all-purpose flour
> ½ cup of baked soda
> ½ cup of warm water
> ½ cup of cold water
To make baked soda, spread ½ cup of baking soda on a foil-lined sheet pan. Put it in a 250F oven or toaster for 1 hour.

Pour the warm water into a mixing bowl. Add 2 teaspoons of baked soda and then add your cold water.

Add your flour while mixing together.

Knead your dough on a flat surface for 5 full minutes.

Wrap dough in plastic and let it rest at room temperature for 20 minutes, then knead for another 5 minutes.

Rewrap dough and place in your fridge for at least 1 hour.

Divide dough in 5-6 portions.

Roll each portion out using a pasta machine, and then cut them to desired thickness and size.
Cook your noodles thoroughly, and be sure to remember that they should be added last to your final dish so that they don't get too soft.
Eggs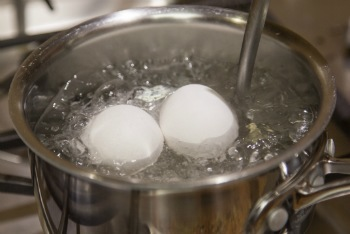 The addition of a soft-boiled egg is one of the key elements of a ramen dish. Here's how you can perfect it:
Bring water to a boil in a pot, and submerge 1-2 eggs in the pot.

Immediately reduce heat to maintain the simmer and cook the eggs for 7 minutes.

Take the eggs out of the water and soak them in a bowl filled with ice water for 3 minutes.

Gently peel the shell off the eggs.

Cut into halves.
If you want to get really adventurous with your eggs and their flavour, you can create a sauce consisting of water, soy sauce and mirin in a plastic bag, and then let your eggs sit in it for 3-4 hours.
Meat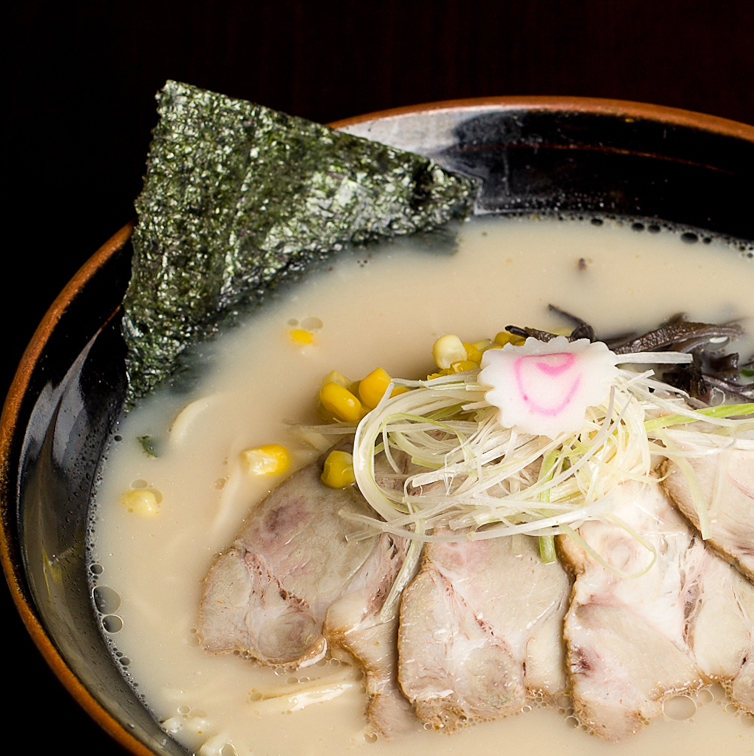 The next step is to choose your meat.
We recommend pork, as traditionally it is the most common type of meat used in ramen. To keep it simple: slice and fry your pork in a frypan with 1 clove of chopped garlic, soy sauce and sesame oil.  
Again, the type of meat that you use is entirely up to you and your own taste preferences – the options are truly endless ranging from chicken and beef to vegetarian options such as tofu and butternut squash.
Toppings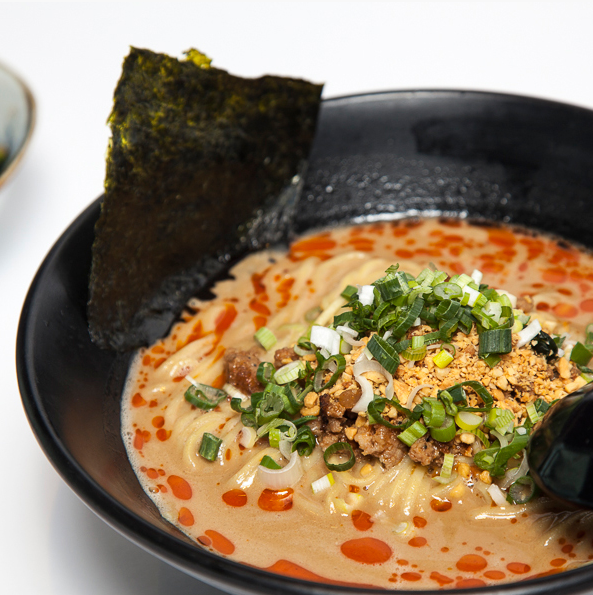 After adding your flavours, noodles, meat and then eggs, you can now add a few other ingredients to your almost-complete dish:
> Thinly Sliced Green Scallions
> Furikake
> Togarashi
The list of final toppings goes on, so you can add any others that you think would mix well with the flavour profile you've created. A final tip is to make sure to eat your ramen as soon as you've completed it – that's when it will taste its best.
If you can't get ramen off your mind, be sure to book a reservation with us in the near future!